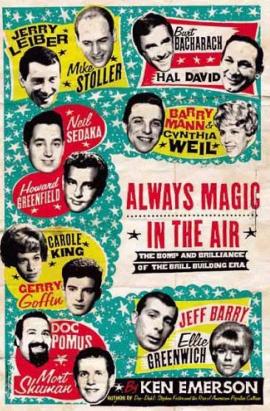 For a thorough, entertaining, and thoroughly entertaining look into the careers and lives of seven powerhouse songwriting teams from New York City's Brill Building, located at 1619 Broadway, and its near neighbor at 1650 Broadway, pick up a copy of Ken Emerson's Always Magic in the Air: The Bomp and Brilliance of the Brill Building Era. Always Magic in the Air (its title taken from a line in the song "On Broadway," which was written by four of the scribes - Leiber, Stoller, Mann and Weil - profiled in the book) is not just an autobiography of fourteen people but a wealth of information on the history of rock and roll, particularly the heavily Latin-influenced sounds that emanated from the Brill courtesy of its young staff songwriters. In addition to the teams of Jerry Leiber/Mike Stoller and Barry Mann/Cynthia Weil, the dynamic duos portrayed in Always Magic... are Doc Pomus/Mort Shuman, Burt Bacharach/Hal David,

Neil Sedaka

/Howard Greenfield, Gerry Goffin/

Carole King

, and

Jeff Barry

/

Ellie Greenwich

.

To read my review on the book, click on the link below:
Stuff 'n' Laura's Pop Culture Cantina: Mad Hot Book Review #1

And to visit my dedicated page for the book which includes some words by both myself and author Ken Emerson as well as links to various online reviews, the product page on Amazon.com, a couple of archived radio interviews with the author, and a message board for people to post their comments about the book, go here:
Always Magic in the Air: The Bomp and Brilliance of the Brill Building Era
Happy reading!